A 'Christmas to remember.' 6 siblings reunited through surprise adoption by Columbus couple
Angela and Elliott Turbeville finalized the adoption of six children, all siblings, Dec. 20, 2021, in Columbus. The couple, who also have three biological daughters, began fostering the kids in 2019. Follow along through the family's adoption day. By Mike Haskey
Editor's note: In order to preserve the privacy of the six adopted children, the Ledger-Enquirer is withholding their names and faces in this article and accompanying visual elements.

Her wish list for Christmas includes items typical of a 10-year-old girl, such as a cooking set and fake nails. But at the bottom, in larger letters, is a request:

Get adopted.

That wish not only came true for the girl Monday, but Angela and Elliott Turbeville of Columbus also adopted five of her brothers - all in a joyful surprise.

The Turbevilles creatively broke the news to the six children, ages 7-14, at their Green Island Hills home this week, before the two-year effort to go from foster to adoptive parents culminated in a courtroom.
Surprise
When they awoke Monday morning, the kids got ready for school like usual. Outside, relatives started arriving for the surprise that would keep the children from going to school that day.

Isabella, one of the Turbeville's biological children and a Columbus State University student, brought 120 donuts. Elliott emerged from the garage to greet her. Then he took out his phone and started recording the scene as Isabella walked to the front door.

When one of the children opened the door, the others followed and saw on the front lawn the "IT'S ADOPTION DAY" sign the Turbevilles had arranged to be put up overnight.

Wide-eyed and mouths agape, the kids soaked in the significance.
One of them asked, "We're adopted?" Angela answered, "Today, we're going to court to be adopted." The children shouted, "Yaaaaaaaaay!"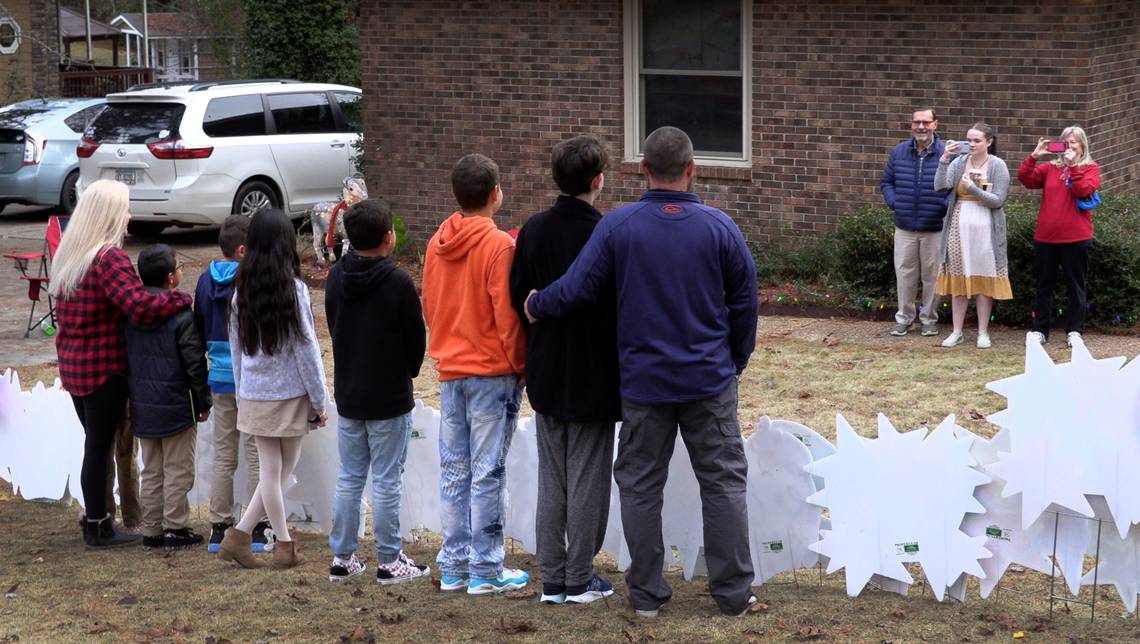 Standing behind a sign that reads "It's Adoption Day," Angela and Elliott Turbeville pose for a family photograph with the six children they adopted Monday. The Turbevilles surprised the children on Dec. 20 with the news they would be going to court that afternoon to finalize the adoption. Mike Haskey MHASKEY@LEDGER-ENQUIRER.COM
After the bevy of family hugs, the 13-year-old boy told the L-E, "Coming right before Christmas, this is like the perfect time. … I'm just amazed and excited because we've been waiting for this a long time."
Being adopted instead of fostered, the boy said, strengthens the sense of security they feel in the Turbeville home.
"We've been through a lot of stuff that shouldn't have happened," he said. "Our parents should have taken care of us. But now, we have these parents that actually take care of us and feed us every day."
He smiled and continued, "They put me in my place when I'm in trouble." Then he paused and added, "They just do everything right."
He noted the frustration the siblings shared when they were split in different foster homes and the gratitude they have for the Turbevilles to adopt them all together. "This is really rare," he said. "They took this chance getting all of us. I thank them — and I thank God — for this."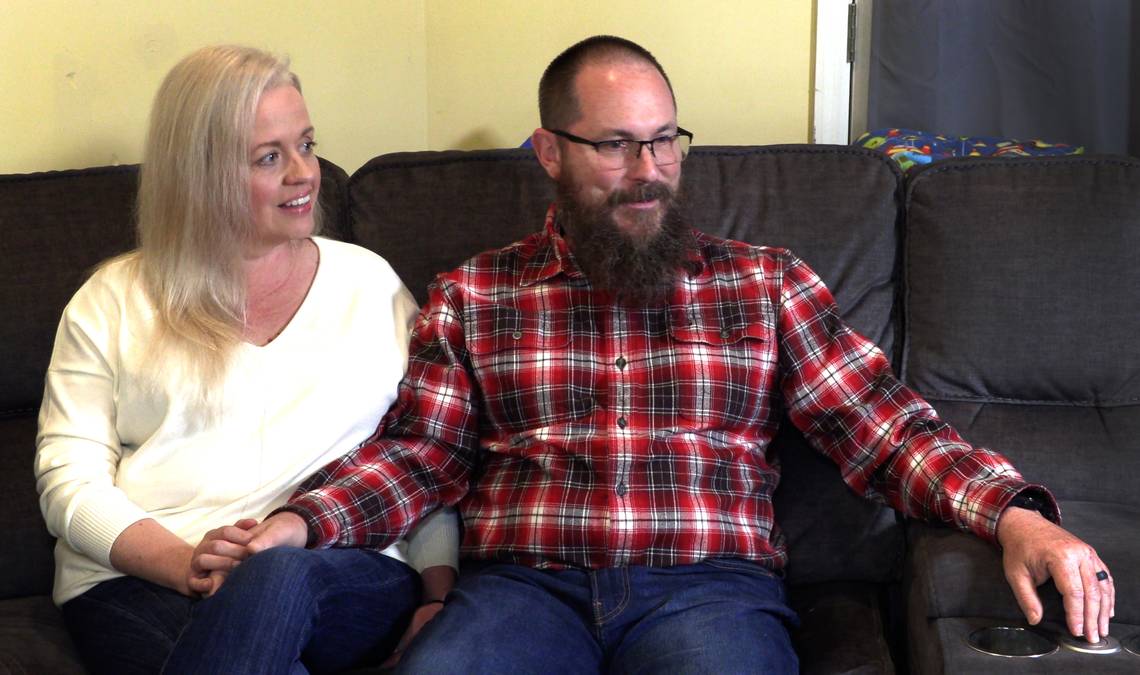 Angela and Elliott Turbeville of Columbus talk about the experience of adopting the six children they have been fostering. Mike Haskey MHASKEY@LEDGER-ENQUIRER.COM
Seeing the children revel in the surprise, Angela said, "I'm just happy the day is finally here and that everybody will have the same last name."
Angela reflected on the legal hurdles they had to leap over to reach this moment, and emphasized that they still are working to adopt the seventh sibling. "I feel like I'm almost at the end of a marathon," she said.
Elliott said he was holding back his emotions until the adoption would be finalized later that day. "I'm just happy to see how surprised they were and how happy they are," he said.
ADOPTION
The family rode downtown in a chauffeured party bus for the adoption hearing in a 10th-floor courtroom at the Government Center, with Superior Court Judge Maureen Gottfried presiding. About two dozen relatives and friends were in the gallery. "This is just a really, really, happy, happy day," Gottfried told them. "I'm so glad that all of y'all are here to celebrate because this is really a celebration of a bad situation turning great."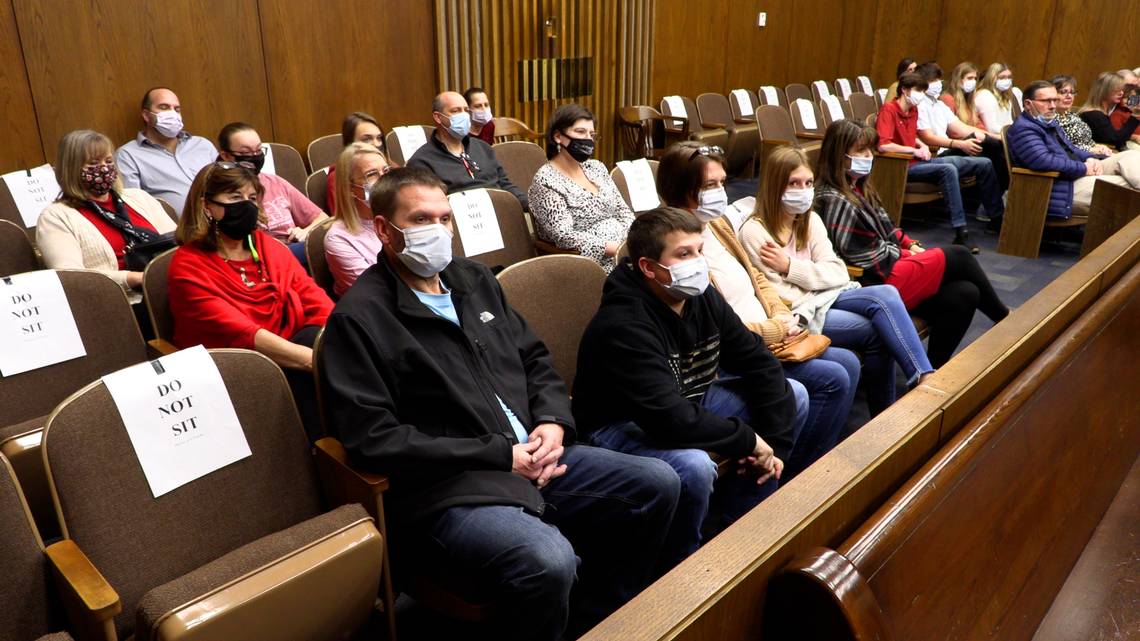 A large group of family, friends and co-workers of Angela and Elliott Turbeville came to court Monday afternoon to witness the couple finalize the adoption of six children, all siblings. Mike Haskey MHASKEY@LEDGER-ENQUIRER.COM
About 10 minutes later, after Tom Tebeau, the Turbevilles' lawyer, presented his clients and their case to the court, Gottfried approved the adoption. "These kids," Gottfried said, "y'all are getting what you deserve as children, to be able to be raised in a happy house and taken care of, loving each other, loving your parents and just having everything be great. So I'm very thrilled to be able to sign off on all these."
After the newly minted family posed for photos, Angela and Elliott told the L-E they are relieved the legal process delivered the result they sought. "It's a dream come true to be able to adopt children," Angela said. "I hate it that they were in foster care, but at least we get to give them a good life. … They're safe, and they're happy, and we're their parents."
MOTIVATION
Angela is a former elementary school teacher and tutor. Elliott is an associate director at Pratt & Whitney. Both are in their 40s. After raising three biological children, their bodies wouldn't allow them to have more kids, but their hearts and minds yearned for them. They considered other options, such as in vitro fertilization, but fostering and eventually adoption better fit their mindset. "There's just thousands of kids in that need," Elliott said. "So we figured, instead of going through all of that with her body and trying to make more of our own, why not just help kids already out there and need help?"
They became certified foster parents in 2019. That October, they received a call from Hope Foster Care, the child placing agency of the Methodist Home for Children & Youth: Would they foster four siblings? They figured they had raised three children, so this would be just one more. Sealing the deal for Angela was noticing one of the boys has the same birthdate of Elliott's deceased mother. "She likes those coincidences," Elliott said. And he jumped right in, taking the four kids to Party City for costumes the day before Halloween. That week, they learned the four children had three siblings in a foster home 2-3 hours away.
After a period of Saturday visits over the next few months, Hope Foster Care asked whether the Turbevilles would take in the other three siblings as well. They agreed, but Angela asked for 30 days to get the house ready. That meant rearranging rooms and buying bunkbeds. Then, when the COVID-19 pandemic started in spring 2020, the Turbervilles hunkered down in their house with their seven foster children. "Luckily, I was a schoolteacher, so I did homeschool," she said. That gave Angela time to help the children who were below grade level catch up. "The oldest boy is now almost at grade level (eighth grade) in most subjects," he said. "He came to me on a kindergarten/first-grade reading level 2½ years ago." Now, all the children in school are on the honor roll. "They're smart," Angela said. "They understand where they came from. They understand where they are. … Their mom was a foster child, so we're trying to break that cycle. My goal is to get them educated, keep them out of jail and be productive citizens." When the seventh-grade boy came home last month with a gift card for having the highest math test score in his grade, he told Angela he wanted to use it for the family to buy groceries for Thanksgiving. "That was a big deal for him," she said. The Turbevilles gained the children's trust by striking the fine balance between providing them a structured yet compassionate home, where promises are kept, Elliott said. "A lot of it is routine and being open and honest and setting clear expectations and just making them feel safe," he said. "… They came from an environment that they didn't know where their next meal was coming from." The children had been asking the Turbevilles for two years to adopt them, Angela said. This past spring, the Turbevilles learned the juvenile court in Floyd County had terminated the parental rights of the biological mother and fathers for the six oldest siblings, allowing them to start the adoption process.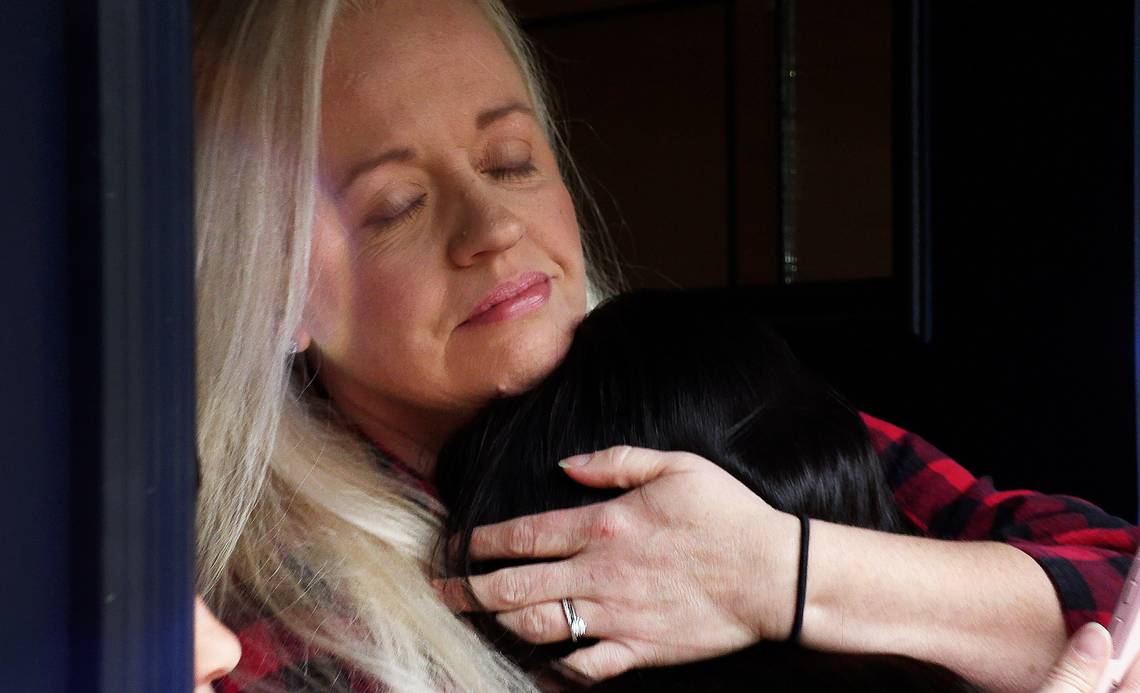 Angela Turbeville hugs one of the six children, all siblings, that she and her husband Elliott adopted Monday in Columbus. Mike Haskey MHASKEY@LEDGER-ENQUIRER.CO
In addition to taking on a new last name, some of the children also chose to change their first name or middle name to something connected to the Turbeville family. "It's just confirmation that we've doing the right thing for these kids," Elliott said. "… Every kid deserves a chance. … There's just so much angst and bad stuff out there. If we can carve out a little area and make them better, make us better as a result and let them go out and make the world a better place as well, I know that sounds kind of cheeky, but it's just the general idea of doing something good instead of just sitting back and watching all the bad happen." The timing of the adoption process culminating five days before Christmas is a coincidence, the Turbevilles said — but a delightful one. "It's a Christmas to remember," Elliott said.
PERSPECTIVE
Their caseworker, Caytlin Merritt of Hope Foster Care, called this case remarkable. She praised the Turbevilles for their patience with the children and for being fierce advocates when it comes to "going above and beyond" to fulfill their needs. "Not only have they welcomed these kids into their home and love them, but now they're opening their hearts to them forever," she told the L-E. "That's a huge commitment and sacrifice on their part, and they have just been all-in from day one. … It's just a joy and a pleasure to have been a witness to that and support them." As of March 2021, Muscogee County had 432 children in foster care, the sixth-highest total out of Georgia's 159 counties, and the state had 13,378 children in foster care, Merritt said. "These numbers have been increasing in the past five to 10 years," she said. Muscogee had 191 foster homes, and the state had 6,307, as of March 2021, Merritt said. Out of the 432 Muscogee children in foster care, 41 of them (9%) were in group homes, and statewide 1,654 (12%) of the 13,378 foster children were in group homes, as of March 2021, Merritt said. That shows the gap between the need for foster parents and the number available to care for them, she said.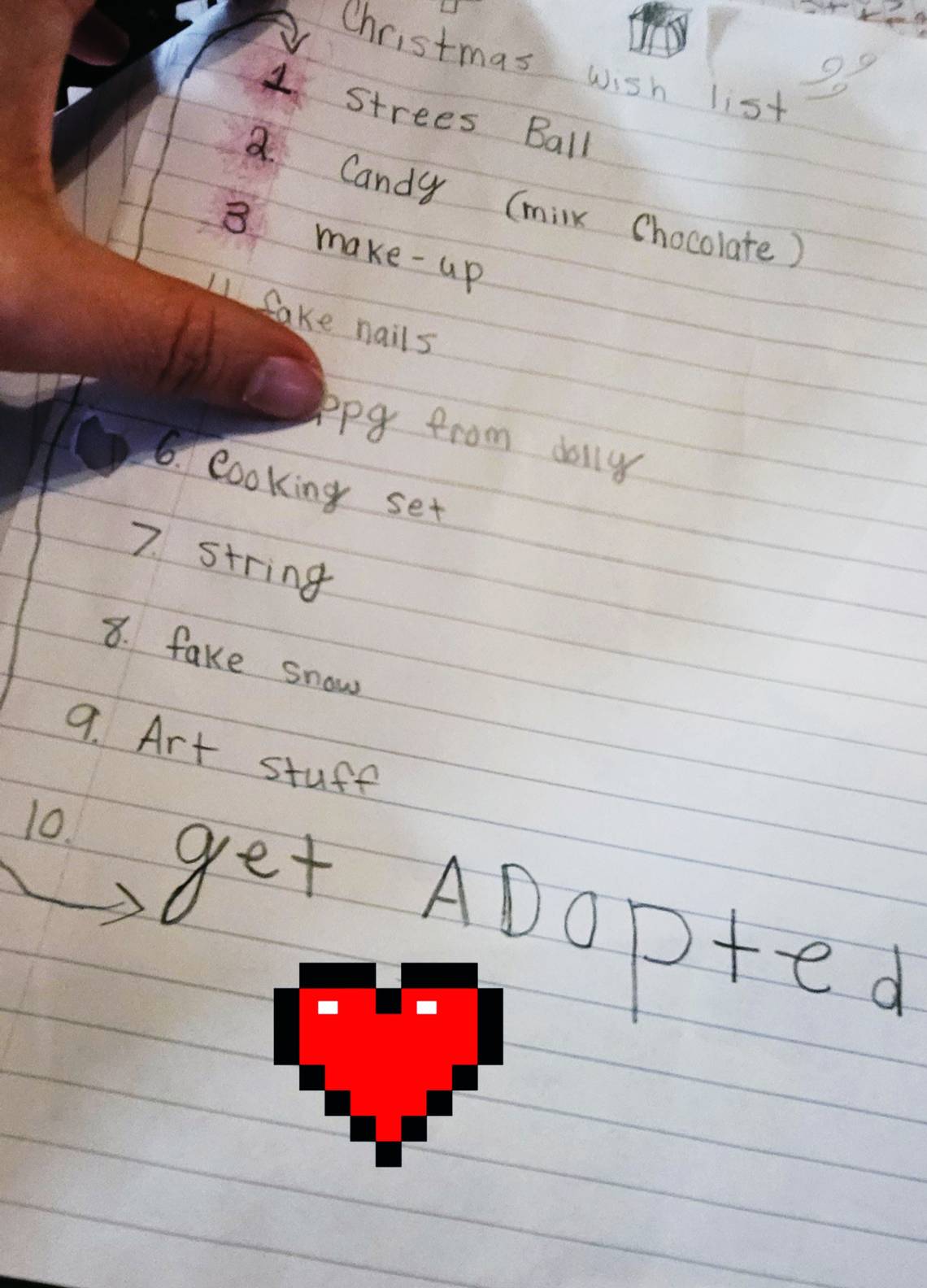 One of the six children adopted Monday by Angela and Elliott Turbeville added "get adopted" to this year's Christmas list. PHOTO COURTESY OF ANGELA AND ELLIOTT TURBEVILLE
"Children heal best within a family environment," Merritt said. "Group homes exist because we don't have enough foster parents able to meet the needs of all of the children we have in care." Beyond the number of children the Turbevilles adopted, what makes their case even more special, Merritt said, is their willingness to take in older children and keep siblings together. "There are not many foster homes currently able to take more than two children at a time and even fewer that are willing to take in teens," Merritt said. "This means that siblings are often separated and may be placed in different counties, sometimes hours from each other. We want to do everything we can to keep teens in foster families, not group homes, and to keep sibling groups together."
HOW TO BECOME A FOSTER OR ADOPTIVE PARENT
To become a foster or adoptive parent in Georgia, according to the state's Division of Family and Children Services website, an individual must:
Be at least 21 years old
Attend a 2-hour information session in the local county office or online
Complete an 8-week training course in person or online Pass a medical exam
a child-welfare safety screening
a criminal background check and three in-home evaluations
Provide proof of residence and financial stability.
For more information, call the Georgia DFCS headquarters at 877-423-4746.
Credit: https://www.ledger-enquirer.com/news/local/article256734457.html